The National Service Scheme (NSS) is a Central Sector Scheme of Government of India, Ministry of Youth Affairs & Sports. It provides opportunity to the student youth of 11th & 12th Class of schools at +2 Board level and student youth of Technical Institution, Graduate & Post Graduate at colleges and University level of India to take part in various government led community service activities & programmes. The sole aim of the NSS is to provide hands on experience to young students in delivering community service. Since inception of the NSS in the year 1969, the number of students strength increased from 40,000 to over 3.8 million up to the end of March 2018 students in various universities, colleges and Institutions of higher learning have volunteered to take part in various community service programmes.
To understand the community in which they work;
To understand themselves in relation to their community;
To identify the needs and problems of the community and involve them in problem solving process.
To develop among themselves a sense of social and civic responsibility;
To utilise their knowledge in finding practical solution to individual and community problems;
To develop competence required for group-living and sharing of responsibilities:
To gain skills in mobilising community participation;
To acquire leadership qualities and democratic attitude;
To develop capacity to meet emergencies and natural disasters; and
To practice national integration and social harmony
Motto's Of NSS
The motto or watchword of the National Service Scheme is "NOT ME BUT YOU".
Activities undertaken by NSS:
National Integration Camp
Shramdaan
Blood donation
Immunization
Plantation
Disaster Management
Adventure programs.
College Level Committee (2022-23)
Sr.No.
Name
Dept.
Status of Nomination
Contact No.
1
Prof.P.A.Chougule
Gen.Engg..
Program Officer
9881251285
2
Dr.A.M.More
Gen.Engg.
Member
9970055034
3
Prof.V.A.Patil
Civil Engg.
Member
9689695628
4
Prof.Mrs.S.P.
Civil Engg
Member
9075769391
Madnaik
5
Prof.Mrs..Chavan D.U.
E & TC.
Member
8149742118
6
Prof.V.T.kamble
E & TC.
Member
8551937575
7
Mr.K.M.Kulkarni
E& TC.
Member (Tech.Asst.)
9421204468
8
Mrs.V.S.Patil
IT.
Member (Tech.Asst.)
9975031658
9
Mr.K.A.Khilare
Physical Director
Member
9850540320
10
Mr.V.S.Chavan
Gen.Engg.
Member
9404128189
11
Mr.S.A.Nitve
Civil Engg.
Member
6965558877
12
Mr.S.M.Koli
Peon.
Member
9765333525
13
Mr.S.R.Ghatage
Peon
Member
8308386021
14
Prof.R.D.Mane
CSE.
Member Secretory
8668551454
REGULAR ACTIVITIES of A/Y: 2022-23
Har Ghar Tiranga Campaign
Har Ghar Tiranga Campaign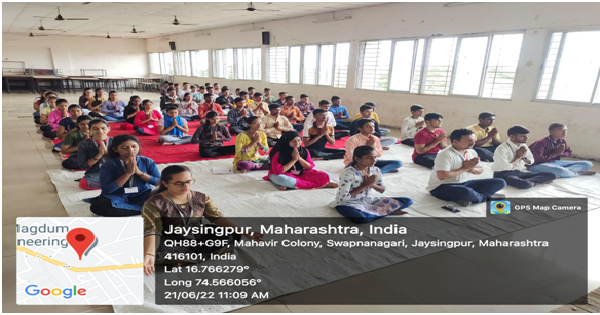 Celebration of International Yoga Day
Tree Plantation Program in college Campus
REGULAR ACTIVITIES of A/Y: 2020-21
One day college cleaning camp by NSS unit, JJMCOE. at 11 Dec 2021